Saxton 4x4 | 17 February 2021
What is the Best 4x4 to Drive Through Snow?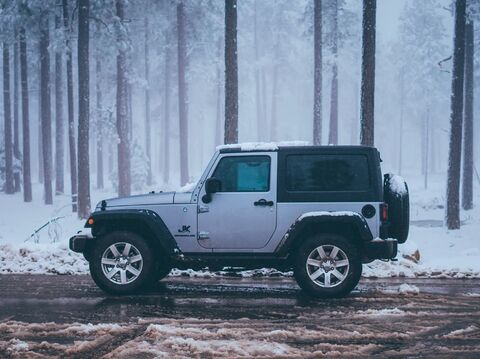 Heavy snow has blanketed the UK in a magical white carpet over the first months of 2021, but with freezing temperatures and snowstorms becoming a common occurrence, most of our vehicles are simply unprepared.
So if you're looking for an upgrade, or moving to an icier location, it's worth checking out these models, and avoid finding yourself stranded in a mountain of beautiful yet inconvenient snow!

Toyota RAV4

The five-seater SUV is one of Toyota's best models when it comes to snowy and slippery conditions. Its multi-terrain select driving feature includes snow surface-specific mode. You can stop wheelspin and the vehicle from losing traction by pressing the Snow Mode button, which cuts down acceleration power. With a primary focus on utility, the RAV4 ensures stability in bumpy roads and can easily move through snowbanks without losing grip.


Dacia Duster SUV

Dacia is known for their 'give a lot for less' vehicles: their cars are affordable but provide the same quality as a more expensive model, and the Duster is no exception. Prepared for icy surfaces and other adverse weather conditions, this SUV's four-wheel-drive model is the best option for extra-grip and more traction, although an efficient two-wheel is also available.



Land Rover Discovery

Land Rover Discovery is the ultimate off-road vehicle and handles well in poor conditions. With a rigorous 4x4 handling system, you'll be able to drive to the shops or to work no matter the weather. The highlight: Land Rover's terrain response system that engages intelligent traction on slippery surfaces, making it one of the best 4x4s for driving in snow and ice.
View all Used Land Rover Discovery Sport



Toyota Land Cruiser

The Toyota Land Cruiser has been through some transformations over the years and the latest version doesn't disappoint when we put it to the test. Driving in deep snow is no trouble thanks to the over eight inches of ground clearance that the Toyota Land Cruiser comes with, so no more worries about getting stuck in a snowstorm. Plus, the Active Traction Control makes driving in winter conditions such as snow and ice safer by preventing excess wheelspin.
View all Used Toyota Land Cruiser



Kia Sportage

Now available in a four-wheeled drive version, the Sportage is perfect for driving on treacherous terrain such as black ice and can handle any type of weather. Driving in these conditions doesn't compromise quality and comfort for driver and passengers. Thanks to the Dynamax All-Wheel-Drive system you'll safely drive through any snowstorm: its sensors check road conditions, distributing power to appropriate wheels to assist with traction and control.



Porsche Macan S

One of the best Porsches available on the market, the Macan S is perfect for winter driving days. Designed to go further off-road than the driver could actually imagine, this is one of the best Porsche to own if you live in an area where snow and slick conditions are a common occurrence. The PTM, its active all-wheel-drive system, is ready for uncertain weather giving you steering, traction and safety.
View all our Used Porsche Macan



BMW 3 Series Touring Estate

A fantastic all-rounder, don't let the rear-wheel-drive put you off: the Touring handles snowfall like no other, only requesting careful driving (which we always recommend in unexpected winter storms). The BMW electronic safety devices kick in on slippery surfaces quickly, so you can regain control on the snowy road. Maybe not your standard vehicle when you think of driving in treacherous conditions, we can assure the 3 Series Touring Estate is prepared for a secure drive in the wintry countryside.
View all our used BMW 3 Series



Range Rover Sport HST

The perfect vehicle to securely enjoy winter driving, the Range Rover Sport HST is expecting your off-road adventures. Equipped with a snow/wet mode, it restricts spinning tyres thanks to an automatic locking centre differential that adjusts to your speed. Out of all the high-technology all-terrain features that this Range Rover comes with, Hill Descent Control is perhaps the most noteworthy when it comes to mountain slippery conditions. Plus, the ability to lower or raise the vehicle means that if you encounter an inches-deep blanket of snow, with one touch you can raise the vehicle and avoid getting stranded.



All in all, driving through snow can cause an array of problems as it impairs the traction of the tyre more than rain. So even if you are someone who drives regularly through snow and understands the importance of braking early and easing up on the accelerator, you still need to take into account that some cars are simply more suitable than others when driving through sludgy, icy conditions. Hopefully, our list of recommended 4x4s to drive in snowy conditions gives you some inspiration but always remember to be careful in hazardous conditions and if you're in doubt, don't risk the roads!
So let us know what you think is the best model for your winter snowy adventures in the comments below.

4.1

(2,000+ reviews)

4.5

(2,700+ reviews)

4.6

(3,000+ reviews)

4

(210+ reviews)