Saxton 4x4 | 18 June 2021
The Porsche Cayenne Is Back To Being The Fastest SUV On The Nürburgring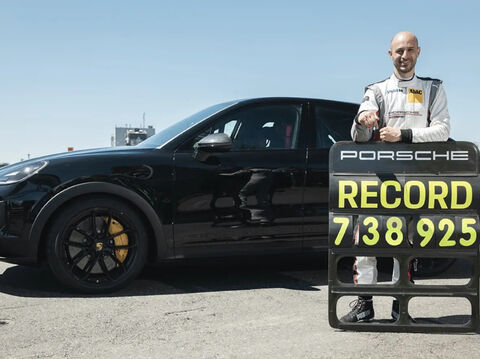 The Porsche Cayenne Coupé is about to receive a new, even faster version. Although the name is not yet known, this version is already causing a stir, as the new Cayenne took the title of fastest SUV at the Nürburgring from the Audi RSQ8. Porsche's new SUV clocked a time of 7:38.925, 3.3 seconds faster than Audi's challenger.
Porsche in-house driver Lars Kern completed the lap of the notorious "Green Hell '' at an average speed of 163.4 kph (101.5 mph) in the vehicle. The car is expected to be based on the Cayenne Coupé Turbo and will have its 4.0-litre V8 upgraded to around 650 PS. Porsche says that the model used for the record has not been modified in any way, except for the addition of a roll bar for driver safety on the world's most dangerous race circuit.
The video published by the German brand shows that despite the numerous tyre squeal, the SUV has very little understeer and its body roll is extremely well controlled for such a vehicle. This new version of the Porsche Cayenne Coupe should be presented in the coming weeks.
Watch the record lap below!

4.1

(2,000+ reviews)

4.5

(2,700+ reviews)

4.6

(3,000+ reviews)

4

(210+ reviews)