Saxton 4x4 | 11 January 2021
Saxton 4x4 splash £32k on '2 SUV' number plate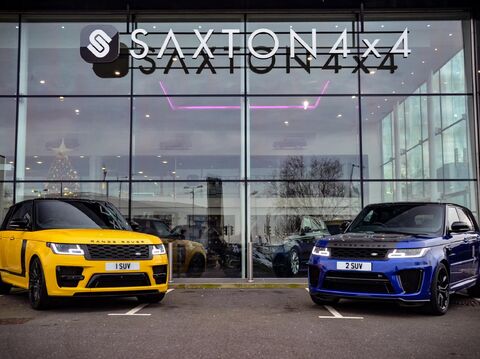 Saxton 4x4 have recently purchased the number plate '2 SUV' for £32,000 to go alongside the '1 SUV' plate we bought for £46,000 back in 2016.
Purchased from a recent DVLA auction, the number plate is not intended to be sold off anytime soon despite a lot of interest from manufacturers who are willing to buy both plates for their own marketing materials.
Currently posing on the Range Rover Sport SVR in estoril blue with carbon bonnet to match the '1 SUV' plate which is on a yellow Range Rover Autobiography (pictured), the '2 SUV' plate is set to eventually be on our company's most expensive car, a 2020 Bentley Bentayga.
"Back in 2016 we bought a piece of automotive history, so when this opportunity came around to have the next best plate we had to snap it up!" - George Harvey, Marketing Specialist, Saxton 4x4

4.1

(2,000+ reviews)

4.5

(2,700+ reviews)

4.6

(3,000+ reviews)

4

(210+ reviews)