Saxton 4x4 | 22 August 2022
Saxton 4x4 Now Stocks More New Range Rovers Than Anyone Else In The UK and Europe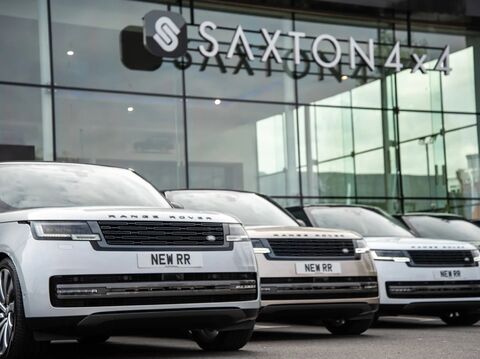 Our luxury SUV dealership is currently holding over 50 new Range Rovers, in stock and going through our showroom, more than anybody in the UK or Europe and more than Land Rover themselves!
Our dealership has been working hard over the years; through our efforts and success we can comfortably say we are the leaders in providing the best SUV's on the market to our valued customers.
Saxton 4x4 is proud to have reputable buying credentials, often meaning that we are the first to market all new SUVs, continuing our dedication to customer service and customer excellence. On top of this, our dealership offers professionally customised and modified versions of Range Rovers and Land Rovers in our showroom and online.
Incidentally, a recent online search showed only 4 New Range Rovers on the Approved Used Land Rover platform nationwide, meaning the Saxton 4x4 dealership has more Range Rovers than Land Rover themselves!
In other news, Saxton 4x4 has also been awarded the highly coveted Auto Trader Award for 'Highly Rated for Customer Service 2022' for the fourth year running. Saxton 4x4 prides itself on giving the customers the best experience when purchasing a luxury vehicle
With over 1000 used and prestige SUVs in stock, Saxton 4x4 is the first stop for all SUV and luxury vehicle enquiries. Check out our news page for more updates and car related information!

4.1

(2,000+ reviews)

4.5

(2,700+ reviews)

4.6

(3,000+ reviews)

4

(210+ reviews)