Saxton 4x4 | 28 September 2021
Range Rover Urban Edition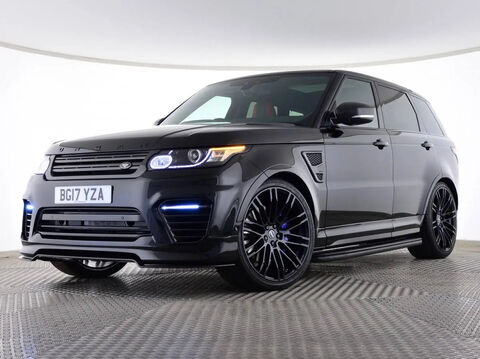 The tried and tested capabilities of the Range Rover established brand gets a performance boost with the Urban edition. Drivers looking to kick things up a gear will enjoy journeys with extra contemporary styling, as the Urban package equips a Range Rover to stand out with head-turning style, confidence and composure.
So what performance and aesthetic improvements do you get in a Range Rover Urban Edition? Here is all you need to know.
Urban Pack - What Does It Include?

Breath-taking agility and handling alongside space for the whole family make the Range Rover an ever-popular choice. But there is nothing wrong with shaking up tradition.
Urban Automotive Ltd took charge of enhancing the iconic original premium SUV, by stylishly remodelling it with in-house carbon fibre elements. To bring a sense of hand-build craftsmanship and grandeur to the modern Range Rover, the Urban package includes a carbon fibre front and rear bumper, integrated Nolden daytime running lights, twin billet aluminium exhaust tips and a black styling pack to grille & side vents.
Did you think that these are all the design perks you get with the Range Rover Urban Edition? Think again. The design features also include a front bumper mouthpiece that is acc compatible, as well as front bumper side air intakes and a lower splitter. Furthermore, a rear diffuser and removable skid pan are incorporated in the Urban pack.
When it comes to protection, the Range Rover Urban Edition doesn't leave anything to chance. A category 5 track - Smartrack S5 and a ghost immobiliser join a full-body machine polish and exterior ceramic protection, for the ultimate security, inside and out.
Urban Package Extras

If all of the exterior, design, paint and body features still don't satisfy your Range Rover upgrade cravings, you have the option of adding carbon fibre tailgate trim, side blades, front autograph grille and wing mirrors.
Inside your Range Rover, the Urban package extras include an optional luxury bespoke quilted leather and rear entertainment system (subject to specification).
The bells and whistles don't end here, as the design finishes available include satin or gloss black, as well as satin or gloss exposed carbon fibre. In terms of wheels and tyres, you are given the choice between 23" forged wheels and 22" or 23" cast UC wheels.
Range Rover Urban Branding

A Range Rover Urban Edition wouldn't be complete without full Urban branding. The branding package comes with an Urban bonnet and front grille badge in addition to an Urban tailgate crest, rear quarter crest and tailgate badge. For the final Urban detailing, a pillar authentication badge is added to your Range Rover.
At Saxton 4x4, we're experts at finding a car that ticks your every box. We'll carry out a full service, HPI-check and valet on everything we sell. You'll be in safe hands when you buy with us.
Ready to conquer the concrete jungle with the Urban pack on your Range Rover? Then contact the Saxton 4x4 team and we will find the model for you.

4.1

(2,000+ reviews)

4.5

(2,700+ reviews)

4.6

(3,000+ reviews)

4

(210+ reviews)