Saxton 4x4 | 27 February 2020
New Defender put through its paces in 007 ad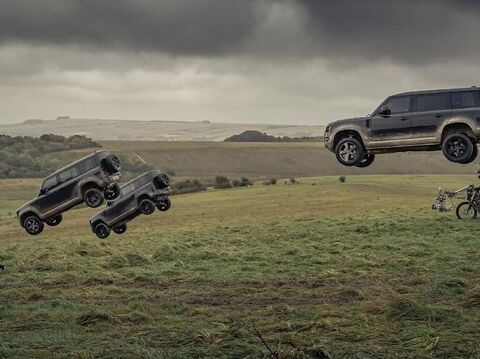 Defender is made of tough stuff

The ad, showcasing the off-roading talents of Land Rover's iconic 4x4, is stirring to say the least. First, it's set to the instantly recognisable Bond credits theme and second, there's a herd of Santorini Black Defenders ripping around the countryside. And when you watch it, you'll see the crew did not hold back at all. The vehicles are made to jump, bounce, wade and smash their way over rough ground. It opens with three Defenders launching 30 metres through the air. At one point, a 110 actually dinks off a tree. It shrugs off the impact without even a hint of damage.
Then, the advert's big finale ends with the stunt driver miscalculating a jump and the vehicle rolling onto its roof, before touching down onto its wheels. The team wants to reset, and the seemingly indestructible Defender X fires back up and gets going again.

Rugged Defender needs few modifications

In case you're wondering, yes, they did really subject the actual production models to those stunts. And, there was little trickery or modifications needed to get the Defender to step up for the camera.
According to JLR's Vehicle Line Director, Nick Collins, the British carmaker supplied the latest 007 film with essentially standard models.
"We developed a new test standard for Defender, the most challenging we've ever had and unique to this vehicle. Physical strength and durability is measured by a number of different tests including a bridge jump test which gave us confidence to deliver what the stunt team needed to create for No Time To Die, with no modifications to the body structure except the installation of a roll cage."
We're seriously bowled over by this revelation. Only a safety cage was installed, no doubt a concession for the film's insurance underwriters!
James Bond and Land Rover

You'll be able to spot the new Defender in cinemas as of April 2020, in the latest instalment of the Bond franchise. This outing, entitled "No Time To Die", used ten of the new models, in a bid to create an "uncompromising " chase scene. One of the Defenders shipped to the production had a VIN number that included the now legendary digits, 007.
Land Rover first teamed up with Bond officially in 1983, when Roger Moore starred in the thirteenth film of the series, Octopussy. In No Time to Die, you'll be able to spot a Range Rover Sport SVR, a Range Rover Classic, a Series III Land Rover and the Defender X.
Watch the ad here
Looking for your next SUV? Check out our stock of large, medium or small 4x4s, we're sure we'll have something for you!

4.1

(2,000+ reviews)

4.5

(2,700+ reviews)

4.6

(3,000+ reviews)

4

(210+ reviews)