Saxton 4x4 | 29 May 2020
New cars to become scarce?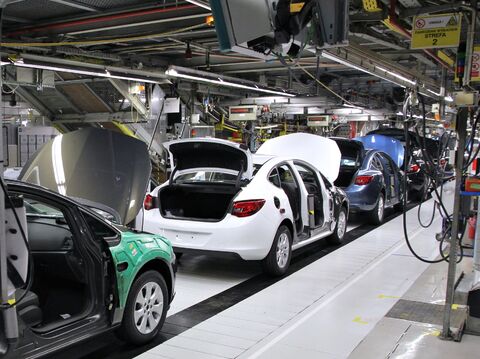 When the world went into lockdown because of the COVID-19 pandemic, car assembly had already been forced to halt due to parts shortages. Jaguar Land Rover closed all its UK plants in late March, with workers only just returning to work at the Solihull facility as of May 18th. On the 20th of May, JLR confirmed the first Range Rover built under a new social-distancing workflow had been completed.
Other carmakers were hit by the lockdown restrictions and had to mothball factories, at least temporarily. Just a few companies affected were Alfa Romeo, Audi, BMW, Bentley, Maserati, Mercedes, Porsche and Rolls-Royce - in fact, very few appear to have been able to continue operations. Some sources are reporting just 197 complete cars were built in the UK during April, a drop of almost 99.7%.
Could production delays translate to fulfilment lags?

One representative for a prestigious luxury brand said delays were unavoidable.
It hasn't been officially confirmed, but the recent events will very likely translate to several months added onto the build time of the most popular vehicles. At any rate, assembly would have to massively ramp up if the backorders are to be cleared. Then, you have to take into consideration the drastic new protocols adopted to keep workers safe and apart at work, which will doubtless take considerable time to adapt to. Additionally, logistic businesses and supply chains are under enormous pressure, as they too have to implement social-distancing and deal with worker absences. Finally, several automotive brands even diversified into producing healthcare and personal protective equipment in an effort to combat the pandemic.
With speed bumps in production, it looks likely that the factories will be severely backlogged with orders. Car buyers wanting to purchase a new model might be staring down a considerable delay.
Alternatives to buying from the factory direct

There's no escaping that when you buy direct from the factory, you're able to customise the car to your exact specifications and taste. However, it seems that you'll have to be patient if this is the route you plan to go down.
Instead, if the hassle of waiting long periods for updates about your new car build is off-putting, then you might wish to consider perusing the Saxton 4x4 stocklist.
All of these vehicles are currently in stock, ready to go. Some feature bespoke and unique modifications installed by renowned aftermarket vehicle customisers. Those kinds of options aren't available from the factory.
We publish high-resolution full external and internal vehicle photographs and can forward you a personalised video walk around to your email address or phone. Our representatives are available via pre-booked virtual appointments using Zoom or Facetime, so you can view multiple vehicles in one sitting, remotely.
You're also conveniently able to reserve a vehicle online, through the website or email, as well as by telephone. Competitive finance can also be arranged through the website or over the phone. We have implemented contact-free vehicle deliveries and handovers or can organise for a socially-distanced collection. Part-exchanges can also be collected, when using our home delivery service. Each car is professionally valeted, deep-cleaned and subjected to a 150-point inspection process.

4.1

(2,000+ reviews)

4.5

(2,700+ reviews)

4.6

(3,000+ reviews)

4

(210+ reviews)