Saxton 4x4 | 12 March 2020
Mercedes AMG unveils sleek, electrified GLE 63 coupe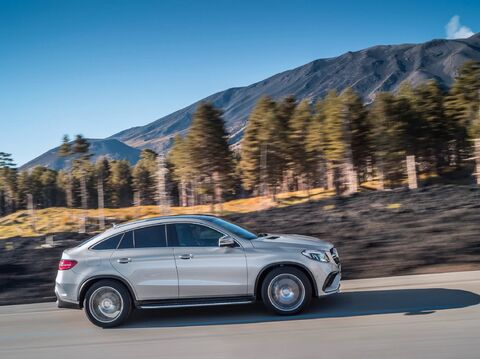 Exterior styling alterations

Stylists at AMG, the performance arm of Mercedes, have reworked the exterior bodywork with more dramatic and sporty elements. The most obvious AMG signature component is the large radiator grille, finished in an attractive chrome. Other trademarks include a re-tooled, body-coloured "jet-wing" front apron, contrasted by sizeable black air intakes. AMG presses what it calls "powerdomes" into the bonnet.
Down the SUV's flanks, there's more muscular bodywork - with AMG side sills, mirror housings and chiselled wheel arches. At the rear, you'll spot a black diffuser and silver trim piece, intended to give the vehicle a more squat profile.
The GLE 63 Coupé rolls on 21-inch lightened alloy wheels, or 22-inch rims, depending on the trim grade.
Powerplant specs

The beating heart of the GLE is one of Mercedes' renowned 4.0-litre, biturbo V8s. Engineers nestle the dual, twin-scrolling turbochargers inside the hot void of the vee-shaped block, improving response. Power measures an impressive 571 hp on the AMG GLE 63 4MATIC+, while the S version boasts 612 hp. An onboard electric motor generates an additional 22 hp, while cleverly combining the alternator and starter motor into one unit. Peak torque is rated at 750 Nm on the GLE and a staggering 850 Nm on the S variant. Those figures are exciting, as they indicate the AWD's acceleration will be rapid and aggressive. 0-60 will take four seconds (or 3.8 seconds), depending on the trim chosen.
Mercedes pairs the power bi-turbo with a nine-speed automatic transmission.
Drivetrain

The mode selectable transmission couples to an intelligent drivetrain that can apparently seamlessly shift between rear-wheel-drive and all-wheel-drive as needed. In a bid to make the GLE 63 grip with more tenacity, technicians developed a dynamic handling control system. There's also an electronic locking rear diff, giving increased traction on slippery terrain.
Handling

Despite the thickset crossover SUV form factor, the GLE 63 will handle well. First, it boasts an adaptive suspension set-up. By adjusting the damping firmness, drivers can select a comfort mode, or opt for the less forgiving, but more responsive Sport+ setting. The S model has a RACE mode.
AMG equips the GLE with a variable-ratio steering set-up, enabling response customizability. At each corner sits large, high-performance brakes. For those desiring more vigorous brakes, there's an optional ceramic brake package on offer.
Interior

The GLE 63 interior is based around the well-reviewed MBUX infotainment system. One optional extra worthy of note is the ENERGIZING package Plus. This unlocks seat climate control for the front occupants, as well as multi-contour bolstering. Owners also benefit from air fragrancing, ionisation and purification, in addition to programmes designed to lift the driver's frame of mind.
Availability and pricing

AMG says the GLE 63 4MATIC+ and S will arrive sometime this spring, with further pricing and specs to be confirmed at a later date.

4.1

(2,000+ reviews)

4.5

(2,700+ reviews)

4.6

(3,000+ reviews)

4

(210+ reviews)