Saxton 4x4 | 12 March 2020
McLaren's class-leading new Longtail 765LT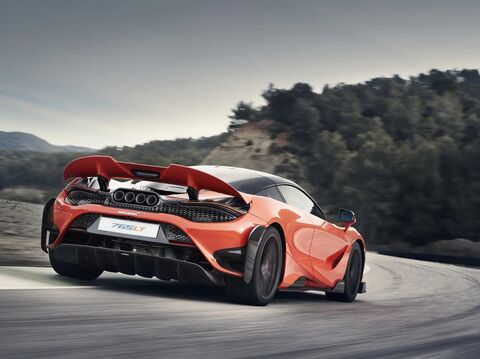 Fans of road-legal track cars will be bowled over by the 765LT, which in many respects is a class-leading vehicle. It has a best-in-class power to weight ratio of around 613BHP per tonne and is 80kg less than the already ultra-featherweight 720S. Its nearest rival can't get within 50kg of this engineering feat. The total power from McLaren's beast-like 4.0-litre twin-turbo V8 comes in at an impressive 7,500rpm and measures a shuddering 755bhp. Maximum torque is a rip-roaring 800Nm.
Performance specs

Thanks to those impressive figures, the model blasts from 0 to 60mph in 2.7 seconds. Even more majestic is the standing start to 124 mph time, which sits at a mere 7.2 seconds. Flat out, it will travel 205mph.
Lightweight

The fastest road-legal McLaren LT ever made, it features a series of lightweight components and technology to further boost its performance. The entire body is chock full of exotic materials we've become used to seeing in abundance on hypercars. But McLaren engineers have gone further, not only relying on the heavy use of carbon fibre but also a nickel-chrome alloy in the transmission - something that is also found on F1 cars. Its two seats are 18kg lighter than the ones on the 720S. There's no carpet or matting internally, again saving precious weight. As standard, you do not get an air-conditioning system or a radio. Even the battery is lighter thanks to the use of a Lithium-ion type, saving 3.0kg!
Road legal race car

So, with such a spartan interior, who is going to want to buy this car? Quite simply, anyone who appreciates a keen-handling, high-performance vehicle. No doubt, the car will appeal to those who compete in track events, especially considering McLaren offers an optional motorsport readiness package. This range of available extras includes MSO seats and uprated brakes.
It's a delightfully elegant, flowing car, with superior aerodynamic properties. It is sure to handle beautifully in all conditions, thanks to an active rear wing that can be deployed just like a Formula 1 car for optimum top speed and more aggressive braking forces. We think it's an inspiring combination of engineering, performance and power, that results in a pretty unique vehicle.

4.1

(2,000+ reviews)

4.5

(2,700+ reviews)

4.6

(3,000+ reviews)

4

(210+ reviews)