Saxton 4x4 | 23 April 2020
Katie Price's unique Range Rover up for sale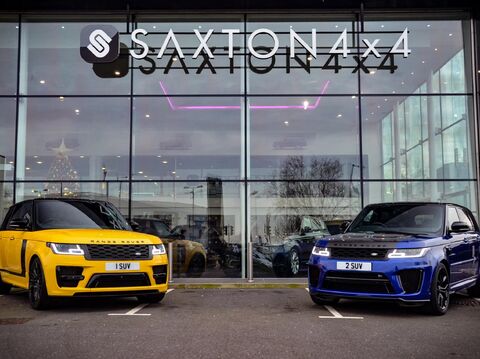 Famous celebrity recruits on SAS: Who Dares

Price joins a line-up of fellow celeb recruits tackling the SAS selection process in challenging conditions presented by the remote and wild Scottish west coast. Appearing alongside her is TV star Joey Essex; legendary TV presenters Anthea Turner and Helon Skelton; former Strictly Come Dancing ballroom dancer, Brendan Cole; TV presenter and pro football striker, John Fashanu; Nikki Sanderson, the Hollyoaks actress; YouTuber Jack Maynard; British Paralympic swimmer and triathlon athlete, Lauren Steadman; DJ Locksmith of Rudimental; BBC Radio1xTra DJ Yasmin Evans and Tony Bellew, a form cruiserweight boxing champ.
Price on her Celebrity SAS experience

The media personality, business person and author has made tabloid headlines through the years, many of which included this storied Range Rover. On her Celebrity SAS: Who Dares Wins experience, Price spoke about her hatred of the cold and fear of water.
She went on to say "It was equally the most terrifying and exhilarating thing that I have ever done." Price also related her surprise, arising from "the extreme conditions, the cold. It was a real eye opener to the real life training they do go through."
Opportunity to own a truly distinctive Range Rover

Saxton 4x4, the UK's largest 4x4 dealership, is offering Katie Price's former 2016 model year Range Rover Autobiography for sale.
Price had it professionally resprayed in a custom paint of her choosing, "Barbie Rosa Pink". The Autobiography boasts a 4.4-litre SDV8 diesel power plant, creating 339 bhp and 546 Nm of torque. In addition to the usual complements of luxury passenger comforts and conveniences, this particular Range Rover has been outfitted by Urban Automotive. Modifications include a body styling kit and enlarged, 22-inch alloys. Currently, the vehicle has a low odometer reading of 52,306 miles and has a factory-supplied 65 plate registration.
Who would this vehicle appeal to?

This customised, one-off Range Rover would appeal to anyone who wants an individualised Range Rover that stands out from the crowd or a buyer who appreciates its ownership history. The car arguably has a minor celebrity status of its own, thanks to many appearances in the tabloid papers.
Potential owners may also be interested to note that research conducted by Auto Trader showed a car previously owned by a celebrity can sell for 241% more than an equivalent model.
A Saxton 4x4 spokesperson stated: "A car's history is very important and can add to its value. Being owned by a celebrity offers extra kudos and can make the car more desirable."
As per any vehicle in the 4x4 specialist's stock, the Range Rover has been subjected to exacting pre-sale preparation and inspection, as well as checking by RAC BUYSURE.
Looking for your next SUV? Check out our stock of large, medium or small 4x4s, we're sure we'll have something for you!

4.1

(2,000+ reviews)

4.5

(2,700+ reviews)

4.6

(3,000+ reviews)

4

(210+ reviews)