Saxton 4x4 | 10 October 2022
Introducing the Lucid Air: ​​the Longest Range, Fastest Charging Luxury Electric Car Ever?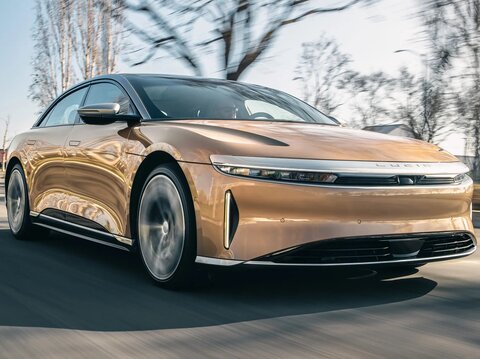 Fresh out of Silicon Valley, Lucid introduces their new flagship EV. The spec sheet is insane, and coming from Formula E roots, Lucid may have just created the ultimate car.

Overview - What is The Lucid Air?

The Lucid Air was created to rival the best in its class, competing against Tesla's Model S, Mercedes' EQS and Porsche's Taycan Turbo S. The market for high power luxury electric cars just got a brand new contender and the specs can go toe to toe with any German rival. Although Lucid was founded in 2007, the American company has been supplying Formula E with its batteries, and have only recently dipped their toe in car manufacturing.


A Lucid Air to Fit All Your Needs

Prices begin at $77,400 for the Air Pure, with 480bhp and 406 miles of range. Factoring in the $7,500 federal tax credit and it will sit just below the $70k mark – the equivalent of around £50,000 after conversion.
The next trim level is the $95,000 Air Touring, with power bumped up to 620bhp but still matching the Pure's 406 miles of range. Still not enough? Go for the $139,000 Air Grand Touring, with an incredible 800bhp and a huge 516 miles of range. The Grand Touring is where lots of Lucid buyers are expected to head to. All models bar the Pure come with dual motors and therefore all-wheel drive.
If you're still not impressed by these stats, then you need the launch edition, though Lucid hasn't dared to name it so aptly. The fetching gold car here is the Dream Edition, and it's technically sold out, but you might be able to grab a build slot if you ask nicely on your Grand Touring order form. Prices start at $169,000 (around £125,000) and you've two options; the Dream Edition R or Dream Edition P - dependent on (R)ange or (P)erformance. The R puts out 933bhp and 520 miles of range, while the P delivers insane levels of power at 1,111bhp and 471 miles.
Did we mention the Dream Edition P boasts a 2.5-second 0-60mph time? Supercar beating performance while also carrying four people in complete luxury. What more could you ask for?



How Does the Lucid Air Compare to the Competition?

The Lucid Air's impressive range comes from its super slick and slippery body. Talented European engineers were flown over to California to make sure the Air drives properly, as well as chassis specialists from Aston and Jaguar including Red Bull Racing's former aerodynamics Jean-Charles Monnet. The result? A car with a drag coefficient of a mere 0.20, matching the Mercedes EQS. However, it's clear to see the Lucid Air looks prettier; far more like a traditional saloon but updated for the EV age.
On a fast charger, you can get 300 miles of range in just 20 minutes. If you're concerned about missing out on Tesla's Supercharger network, there's good news, as each new Lucid Air comes with three years of free power from Electrify America.



An Air of Luxury and Bliss - Inside the Lucid Air

The interior of the Lucid Air is just as impressive as its sleek lines on the exterior and supercar shaming speed. Fitted with soft supple black leather, you can expect to see the Lucid Air absolutely loaded with tech. Behind the steering wheel is a 34 inch curved 5k screen, and a large tablet located in the middle, which can fold away to reveal a generous storage compartment.
There is also expansive passenger space, with optional executive rear seating which adds reclining seats. This, coupled with the large glass roof, gives the cabin a very light and open airy feel, despite being smaller than its contenders. The Lucid Air offers a 626 litre boot and a 283 litre 'frunk', plenty of space for anything you need to transport.



The Lucid Air makes it to the UK roads in late 2022 with deliveries in 2023. However on California roads, reviews state that the Lucid Air is an incredible car to drive. Sharp dynamics and a more homely interior than any Tesla.
The one to look out for could be a more 'common' Lucid Air Pure or Touring. The power output and launch control start of these cars will still offer ludicrous performance with a heavily discounted launch price. An EV with 500bhp for under £60k could be what puts Lucid near the top of a lot of shortlists.


With over 1000 used and prestige SUV and luxury vehicles in stock, Saxton 4x4 is the first stop for all your vehicle enquiries. Check out our news page for more updates and car related information!

4.1

(2,000+ reviews)

4.5

(2,700+ reviews)

4.6

(3,000+ reviews)

4

(210+ reviews)