Saxton 4x4 | 28 April 2020
How the Audi e-tron recharges so quickly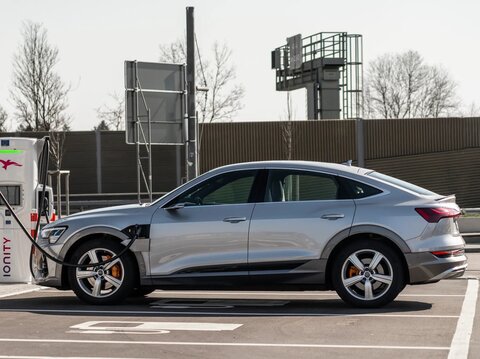 A battery with a unique charging curve

When it comes to purchasing electric cars, range is often the primary concern. However, charging times are also important. Why? Well, if you're charging at home or work, where the vehicle spends several hours hooked up to the grid, time isn't as much of a concern. But, if you're on a long journey, you'll want to minimise the number and duration, of charging breaks.
Developing a battery capable of its full potential

What have engineers done with the electric SUV to combat the problem of spending hours at motorway services charging your EV? Put simply, Audi has made the e-tron's battery able to comfortably accept its peak charging volume for longer periods. As a result, the recharging process is more efficient.
So Audi has ensured that the e-tron is able to tap into near maximum output levels for as long as possible, without overheating the battery. This is done by allowing the car to charge at high output levels, up to 70% battery capacity. Then, the intelligent battery management system cuts the current to lower levels for the remainder of the charging period.
With all these technologies and systems in place, the e-tron outpaces many of its rival's charging times. Competitors are only able to take peak charging capacity for ten minute periods or less.
Example charging times for the Audi e-tron

In practice, you should be able to restore 68 miles of range in just 10 minutes. 80% battery life can be reached in as a little as 30 minutes. A full charge requires 45 minutes. One of the reasons the e-tron can handle the extra heat is thanks to a 22-litre power pack coolant system, with 131 feet of cooling pipework.

4.1

(2,000+ reviews)

4.5

(2,700+ reviews)

4.6

(3,000+ reviews)

4

(210+ reviews)