Saxton 4x4 | 25 September 2020
Complete Guide to Buying a Used Tesla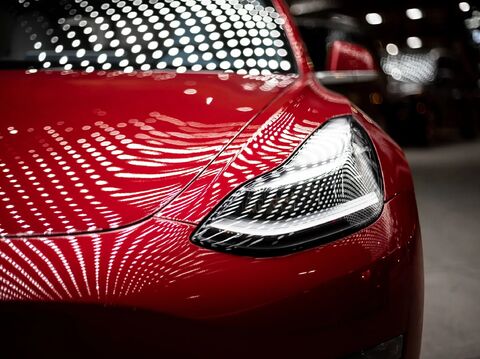 When buying a used car there are multiple things you know to look out for but what about buying a used Tesla? Tesla has been around for over a decade meaning that there now loads of used vehicles available on the market.
As with any used vehicle, you'll want to conduct checks to make sure it's not faulty but you'll also need to check the battery power as this is critical when looking at a used electric vehicle. Our guide will help you know what to look for when buying a used Tesla.
Where to buy a Used Tesla

Traditionally there are three places to buy a used car from. These all vary depending on your location and budget. You can buy a used car from the car manufacturer, a reputable dealer or a private seller.
Buying a car from a manufacturer dealership allows you to know that the car you are buying has met minimum requirements mechanically and cosmetically and the car should be supplied with a good warranty.
Buying from a reputable dealer will allow your Tesla to be mechanically sound and they may address any cosmetic issues to help the car look attractive and worth selling. They also supply a warranty by law. They'll also check the battery and replace it if needed.
The final option is a private seller. If the car is still under warranty then you can buy it without a big risk if it breaks. If the car is out of the Tesla warranty, it may cost you more money to get it fixed.
Which Tesla model should I buy?

There are a wide variety of Tesla vehicles on the secondhand market. Here are just some of the best ones available:

One of the cheapest Tesla models on the market and one of the best. The Tesla Model 3 is roughly the same size as the BMW 3 Series and is practical for the everyday. With a long-distance battery and quick charging option. You can get from A-B easily and without hassle.

Tesla's introduction to the SUV world, it's perfect for bigger families with the capabilities of having up to 7 occupants. With an extra spacious boot, it's perfect for a large family who needs to take everything for a week away.
Model S

The Model S was the first to reach mass production. The car has had many updates since launch but is still one of the best electric models on the market. Perfect for those who are looking for a practical vehicle for driving every day.
Test out the self-drive

Depending on the model and year of your car, a used Tesla may have the option of a self-drive mode. Some Tesla models have a built-in autopilot mode which includes lane assistance and adaptive cruise control. You may also see that your Tesla has Full Self-Driving Capability (usually found in the Model S series post-2016) which allows your vehicle to park itself, change lanes on the motorway and can be controlled by your smartphone whilst driving at a low speed. Make sure you research into what capabilities your chosen car has and double-check that there is no extra fee.
What do you get?

If you buy a Tesla past April 2015 you'll get a pretty amazing standard technology package. This includes:
Automatic keyless entry
Parking sensors
Power-folding and heated side mirrors
Maps and navigation with real-time traffic updates
LED daytime running lights
Blindspot warning system
Lane departure warning system
There are also multiple add on options which you can add to your second-hand Tesla even after you've bought it.
Choosing the right one

Like anything else in life, you'll need to make the decision based on you and your needs. Choosing a second hand Tesla will depend on what you want to get out of the car whether that is performance, budget or space.
Teslas are reliable vehicles and will go for years so no matter which one you purchase you can be reassured that this is the right choice for you.
Our team at Saxton 4x4 are specialists in luxury vehicles. Take a look at our entire range of Tesla Cars or get in touch with us to find out more.
Interested in everything Tesla? Check out this ultimate list of Tesla Stats

4.1

(2,000+ reviews)

4.5

(2,700+ reviews)

4.6

(3,000+ reviews)

4

(210+ reviews)