Saxton 4x4 | 29 May 2020
Best Car For A Family Holiday?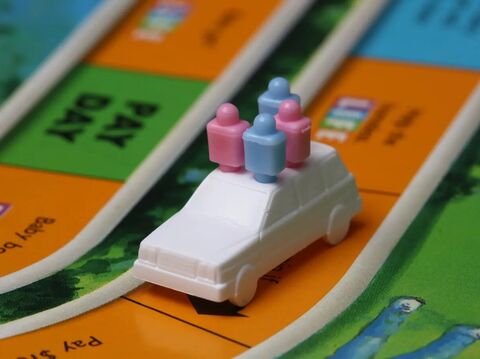 Choosing a car for a family of four

What attributes should you look for in the ideal car for a family of four heading on a getaway?
Space

Having enough space is critical. There's nothing worse than driving a car where you've run out of boot space and had to begin stuffing overnight bags and suitcases into the cabin, between your kids and in the footwells. It makes the car feel claustrophobic, can be dangerous and just generally stops your passengers from being able to relax and stretch out.
Consequently, it's critical you pick a vehicle with a big boot. The bigger the better. This way, you'll be able to take everything you need, including some choice delicacies, a selection of your favourite beverages and the family pet. Plus, you won't have to fill the boot to the roof, blocking your view out of the rear window.
It's not essential, but a panoramic roof makes the cabin nice and light, as well as giving your brood something to look at if they get bored, or you're travelling past an interesting landmark.
Incidental storage

You know all those cubby boxes, bottle holders, coin trays and seatback pockets? - car makers call them incidental storage. Selecting a car with lots of well-designed, thoughtful storage bins and nooks will mean you're able to keep valuables out of sight, while still having everything at your fingertips. Some models even have chilled boxes, so you can hand out cold drinks on the journey!
Infotainment system

We don't have to tell you how short the attention span of today's four-year-old is. It'll make your journey less stressful if you purchase a vehicle with dual USB ports, allowing everyone can keep their iPad or device charged. This way, the kids can continue playing their games or watching Baby Shark on repeat while you can waft along listening to Radio 2. Many luxury 4x4s included rear headrest screens, or iPad holders - again, keeping the little ones occupied and engaged, so you can shift focus to driving.
Apple CarPlay and Android Auto mean you can easily connect to your chosen navigation app or music streaming service. Alternatively, you can use the built-in navigation system. Getting lost is frustrating and causes tempers to fray, so this is a definite must-have!
Comfort

Look out for models with power-adjustment, lumbar support, armrests and even heating and cooling elements integrated within the seating. These will help you travel further in comfort, as well as staying fresh-feeling on warm days and even alleviate the troubles caused by back and other muscular aches.
The best vehicle for family holidays?

The vehicle that ticks all the boxes above, has to be the Range Rover. If you opt for this striking Autobiography model, you'll get 12V outlets in the rear, power-adjustable executive rear seats (with heating and cooling elements in the seats), plus a hot-stone massage setting for the front passengers. Four-zone climate control means everyone can be happy, with no arguments about whether the car is too cold or warm.
There's heaps of room for luggage, 909-litres in fact. It has a sliding panoramic roof, and most importantly, pretty much every modern safety feature and assist you can think of - so the vehicle will actively help keep you and your family protected.

4.1

(2,000+ reviews)

4.5

(2,700+ reviews)

4.6

(3,000+ reviews)

4

(210+ reviews)