Saxton 4x4 | 06 December 2022
The Best Road Trip & Travel Blogs to Follow in 2020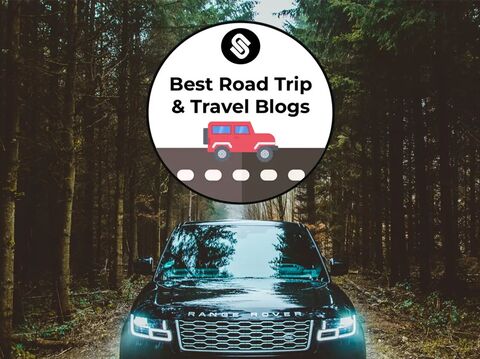 At a time when travelling is harder than ever, and with plenty of time on your hands to plan the perfect road trip, you can be forgiven for constantly dreaming of your next getaway! It's for that reason that we here at Saxton 4x4 have chosen our favourite road trip and travel blogs of 2020. Lose yourself in tales of adventure from the brilliant bloggers below and before you'll know it you'll be hitting the road again soon:


Mollie uses her blog to showcase her adventures as she travels around the world. Aiming to inspire others to just follow your dreams. Producing relatable content such as helpful travel guides about touring Europe in a van to travel hacks and personal experiences, Where's Mollie is an ideal place to get some serious travel envy.


Travelling the world in a motorhome is something many of us dream about doing but for Kat it's a reality. After she quit her job in 2018, she packed her bags, husband and puppy and set off in a motorhome around Europe. Using her blog to support and offer advice for those who are thinking about travelling the world and making most of their time on the road.


Adam quit his job in 2010 and hasn't looked back since. After visiting places including Morocco, Israel, India and Vietnam, Adam turned his passion into a career and shares his journeys across the world. His blog showcases gay stories, nightlife tip and personal essays around his adventures.


The first thing that you see when visiting California Through My Lens is the stunning photography taken by Josh. Creating serious travel envy Josh shows you all the different elements and stunning places in California to visit. A travel junkie at heart, Josh shows you how everything he loves about his home.


Nora travelled full time for over 12 years and still travels at every chance she gets. Showing readers that they can travel safely without breaking the bank. Surviving bushfires to head-on collisions, you'll not be disappointed by adding The Professional Hobo to your bookmarks.



Based in North Wales, Monica began The Travel Hack in 2009 when she left the UK for a backpacking adventure around Australia and Asia. The Travel Hack is designed to showcase weekend breaks and affordable adventures. Since having children she has slowed down but that doesn't stop her sharing her experiences and adventures around the world.



With no interest in holding down a standard 9-5 job, Chris daydreamed about a life of adventure and took the dive when he was 23. After a friend asked him to join on a trip to South Korea, he took the plunge and hasn't looked back since. His blog is all about the bucket list and sharing his journey with his audience. It's definitely one for those who are looking at taking a leap of faith.

Watching how people from different backgrounds interact with the world Carol decided to create Girl Gone Travel. Sharing stories of her adventures and travel she's been to Asia, Caribbean, Europe and Oceania whilst maintaining a strong family bond and inspiring her children to follow their dreams.



O. Christine blog is run by Olivia and ticks off everything you want for a travel blog. Writing and photography come hand in hand when travelling but Christine promotes travel and wellness and encourages readers to connect with the outdoors. O.Christine is a stunning blog for those who are looking for inspiration and better wellbeing.



Offering specific travel advice, stories of adventure and exploration, travel reviews and inspiration to get out and travel the world. Based in New Zealand, he opted to travel after he graduated from university. After travelling around the UK and Ireland he headed to New Zealand and never looked back. Showing all the wonders that New Zealand has to offer, Backpacking Matt is anything but boring.



One of the solo travellers on our list, Kristin was offered a chance to study abroad in Taiwan. After graduating, she settled into a 9-5 job but dreamed of going on an adventure. After a year of agonising, she said her goodbyes and booked a one-way ticket to Thailand (not Taiwan). She now shares her stories about her solo adventures across the world on Be My Travel Muse.



Andrew and Emily discussed their future around a table in London and realised they'd been putting their dreams on hold for too long. After saving and quitting their jobs they were off. Sharing their experiences, perspectives, mistakes and advice, Along Dusty Roads is the perfect blog for inspiration and advice for those budding adventurers out there.



A world traveller at heart, Karen created The Mom Trotter to share her budget travel tips, travelling with family and her journey across America in an RV. Karen also created Black Kids Do Travel with her son to encourage parents of children of colour to travel with their children and show them the world. A truly inspirational blog for everyone.



Monet is a full time working mum who had been told too many times that when she had children her days of wandering would end. She and her husband knew this could not be their way of life and they wanted to continue travelling with their children. With many parents thinking that travelling with children is impossible, Monet wanted to end the stigma and encourage and show them that travel was completely possible, this is where The Travelling Child was born. Perfect for parents who have itchy feet and the need for adventure.



Sion and Ben both have a strong passion for travel and have always strived to see and share as much of the world as possible. They've visited over 35 countries after getting the travelling bug in 2011. With a mission of breaking down the barriers that face the LGBTQ+ community and addressing the needs of LGBTQ+ travellers (including safety), Sion and Ben are the perfect couple to follow.​



Award-winning writer and solo female travel blogger, Emily, showcases everything we love about travelling. A passion for the great outdoors, sunsets, good food and most importantly adventure, Emily guides you along her journey and shares her tips and tricks to travelling abroad and at home.



Starting The Planet D in 2007, Dave and Deb have been all over the world and have visited over 115 countries. They share their stories and photos with their loyal audience and have since been named one of the Top 10 Travel Influencers in the world by Forbes magazine. Follow this blog and you'll be on the road in no time.



Julianna started The Discoveries Of to help budding travellers find and discover the best international destinations around the world. With high-quality guides and tips that will save the audience time and help them get the most out of their travelling and award-winning photography, The Discoveries Of is the perfect destination guide for everyone no matter where they are in their travel journey.



Award-winning blog Bucket List Journey is run by Annette who aims to inspire everyone to live their bucket list. With a passion of checking off items from her own personal bucket list, she shares her journey, destinations and activities with her loyal fans and followers. Ideal for those who have a bucket list but need the inspiration and pushing to start their journey.



Award-winning writer, blogger and avid explorer Becki runs Borders of Adventure. With the aim to offer destination inspiration alongside social, historical, political and cultural reporting. Travelling around the world, Becki created Borders of Adventure as a go-to resource for those wanting to travel in a similar way. An inspiration for those wanting to take on solo travelling.



Inspiring millennials to embrace culture, engage with locals and try a variety of food as they travel, Francesca writes about her journeys across the world on the One Girl: One World blog. Believing that life is a journey and should be enjoyed, Francesca shares her tips, tricks and guides helping her followers get the most out of their travel experience.



Inspiring the adventurous with their thrill-seeking activities in faraway places, Kia and Peter are the founders of Atlas and Boots. Showcasing some of the best hikes in the UK to the happiest countries in the world, their blog is for those who like to keep active and want to see the world for its natural beauty.
So there you have our picks of the best road trips and travel blogs. Have we missed your favourite? Let us know on our social media channels.

4.1

(2,000+ reviews)

4.5

(2,700+ reviews)

4.6

(3,000+ reviews)

4

(210+ reviews)